News for October 15, 2012
---
Featured this week:
In state law news:
---
Featured this week:
Drawing on evidence of inconsistent statements, deviations from company policy, and disparate treatment, the First Circuit found that an employee sufficiently established pretext and discriminatory intent to defeat a motion for summary judgment challenging his ADEA claim (Acevedo-Parrilla v Novartis Ex-Lax, Inc, 1stCir, October 10, 2012, Torruella, J). Therefore, the appeals court reversed and remanded a district court decision that had granted the employer's motion. The lower court erred when it improperly bypassed the burden-shifting analysis, the appeals court noted.
Rebuffing a motion to compel a male district attorney to answer questions regarding his sexual attraction to men, a federal district court in Georgia declined to allow unsuccessful female job applicants to dig into the DA's sexual orientation during discovery in an effort to unearth circumstantial evidence of gender discrimination (Herron v Chisolm, SDGa, October 3, 2012, Smith, G.R.). The applicants alleged that they were passed over for an investigator position in favor of a male candidate to whom the DA was attracted. At its core, the complaint alleged sexual favoritism, for which no Title VII cause of action exists, the court found.
Denying the defendants' motion for summary judgment on a former employee's retaliation claim, a federal district court in Maryland found that while her employer had too few employees to be a per se employer under Title VII, there were facts to support a jury finding that the defendants were integrated employers subject to the employee's Title VII retaliation claim (Tasciyan v Medical Numerics, DMd, October 9, 2012, Williams, A, Jr). Specifically, the court noted that the employer used an HR manager from larger related companies to discipline and then fire the employee for alleged misconduct, and also used their letterhead.
A lineman for a utility company who was discharged after he suffered a back injury resulting in his being unable to climb poles or lift more than 60 pounds, and was eventually offered another position at lower pay and with a loss of seniority, survived the employer's motion dismiss on his ADA and New Mexico Human Rights Act claims of disability bias, a federal district court in New Mexico ruled (Rico v Xcel Energy, Inc, DNM, September 25, 2012, Vazquez, M). Under post-ADAAA standards, he sufficiently pled that his physical impairments substantially limited a major life activity, ruled the court. However, his breach of contract claim based on an agreement between the employer and his union was preempted by the LMRA and thus dismissed.
The DOL announced that it has launched its online Workplace Flexibility Toolkit, a program intended to give employees, job seekers, employers, policymakers and researchers information, resources and a unique approach to workplace flexibility. The toolkit adds a new dimension—an emphasis on flexibility around job tasks and what work is done.
The unemployment rate among military servicemen and women in the civilian workforce is much greater than for their non-veteran counterparts. As troops from Afghanistan start returning home, what do these veterans as well as employers need to know? Harry Croft M.D., a former Army doctor and a psychiatrist who has evaluated more than 7,000 veterans for PTSD, and author of the book I Always Sit With My Back to The Wall, offers advice for veterans and employees.
In state law news:
Two significant changes in Indiana state law will allow non-violent offenders to have their criminal records sealed as well as give courts the power to convert a Class D felony conviction to a Class A misdemeanor upon petition. The new Indiana laws, which went into effect last July, aim to help ex-offenders find work.
You are subscribed to CCH® NetNews, sponsored by CCH INCORPORATED. Click here to unsubscribe. To manage your newsletter preferences or subscribe, click here.
To unsubscribe via postal mail, please contact us at: CCH Incorporated, Attn: Business Compliance Marketing, 2700 Lake Cook Rd., Riverwoods, IL 60015. Please include the email address you have been contacted with.
Special Report
Census Bureau report shows steady increase in home-based workers since 1999
In 2010, 4.2 million more people worked at home than a decade before, according to a report released by the U.S. Census Bureau. Home-Based Workers in the United States: 2010 contains findings from the Survey of Income and Program Participation and the American Community Survey. The number of people who worked at home at least one day per week increased from 9.5 million in 1999 to 13.4 million in 2010, increasing from 7.0 percent to 9.5 percent of all workers. The largest increase occurred between 2005 and 2010, when the share grew from 7.8 percent to 9.5 percent of all workers, an increase of more than 2 million.
Featured Product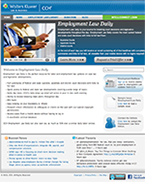 CCH Employment Law Daily is a premium labor and employment law update service that offers daily e-mails, access to an online searchable database, and the option of receiving breaking news alerts throughout the day.