News for the Week of May 13, 2013
---
Legal News:
Major Contract Awards:
Legal News
Multidistrict litigation against wartime contractors was dismissed by the District Court for the District of Maryland because the plaintiffs' claims were non-justiciable under the political question doctrine. The majority of the plaintiffs were United States military personnel who sought to recover for injuries allegedly suffered as a result of exposure to open burn pits and contaminated water at military bases throughout Iraq and Afghanistan. The court concluded "[t]he actions complained of are not ones taken by the [contractors] alone, and [their] defenses (e.g., contributory negligence and causation) would necessarily require review of the reasonableness of military decisions, a role that is simply not appropriate for, or within the competence of, the judiciary." (In re: KBR, Inc., Burn Pit Litigation, DC Md, 57 CCF ¶80,045)
The government's claim alleging noncompliance with Cost Accounting Standards was denied by the Court of Federal Claims because the government failed to prove the contractor's method of allocating materiel overhead violated Cost Accounting Standard 418. The government did not adequately support its contention that direct materiel should have been used to allocate the materiel overhead pool, nor did it provide any evidence to establish that CAS 418 required the use of an alternate method of allocation involving the segregation of government furnished materiel-related costs in a distinct indirect cost pool. (Sikorsky Aircraft Corp. v. U.S., FedCl, 57 CCF ¶80,040)
Government counterclaims alleging violation of the False Claims Act, the Contract Disputes Act, and the special plea in fraud statute were denied by the Court of Federal Claims because the government failed to prove the construction contractor knowingly presented false or fraudulent claims to the government. The counterclaims were denied because government failed to identify any "falsities": the contractor's belief the contract did not include its proposal was sincere; the claim's listing of subcontractors anticipated to perform the work and the estimated costs, even though the subcontractors did not submit claims to the contractor, was not improper; the 172 percent general and administrative direct labor rate was higher than the 165 percent rate established in an audit of a state surveying services contract, but was not false; a $15,000 claim for light poles that cost the contractor $10,089 was viewed as an estimate pending receipt of a credit card statement; and mark-ups sought for work performed by other contractors were transparently stated in the claim. (Hernandez, Kroone & Associates, Inc. v. U.S., FedCl, 57 CCF ¶80,044)
A challenge to an evaluation and selection decision was rejected because the government's concerns regarding the protester's approach to a technical requirement were reasonable. The Comptroller General denied the protest, finding the government had "good reasons" to be concerned with the protester's help desk approach. Although the protester increased its help desk staffing in response to the discussions, it failed to explain how the additional staff would be used. Also, the protester did not demonstrate it would not be using the help desk as a "call handling center." (NCI Information Systems, Inc., 28 CGEN ¶114,047)
Major Contract Awards:
Science and Engineering Services LLC, Huntsville, Ala.; and Support Systems Associates Inc., Melbourne, Fla.; were awarded an indefinite-delivery/indefinite-quantity, multiple-award, firm-fixed-price contract with a maximum value of $1,500,000,000 for services in support of Army Aviation program management. The Army Contracting Command, Redstone Arsenal, Ala., is the contracting activity.
Lockheed Martin Aeronautics Corp., Fort Worth, Texas, is being awarded an $830,000,000 firm-fixed-price, cost-plus-fixed-fee contract modification for additional production of 18 Iraq F-16 aircraft and associated support equipment, technical orders, integrated logistics support, contractor logistics support and an electronic warfare system. The Air Force Life Cycle Management Center/WWMK at Wright-Patterson Air Force Base, Ohio, is the contracting activity.
Fisher Scientific Co., LLC, Pittsburgh, Pa., has been awarded a maximum $233,598,349 modification exercising the fourth option year of a base contract with four one-year option periods for selection of a distributor to make available laboratory supplies and wares using the Laboratory Electronic Catalog program. The contracting activity is the Defense Logistics Agency Troop Support, Philadelphia, Pa.
Wolters Kluwer Law & Business is the leading provider of information covering Government Contracts. For more information about our products and services, go to http://hr.cch.com/ or call 800-449-9525. This newsletter is copyrighted and may be redistributed only for non-commercial purposes and only in its entirety, specifically including the headers, this paragraph and the copyright line. No other redistribution or re-purposing, including but not limited to use on a web site, intranet or extranet, is permitted without prior written permission.
You are subscribed to NetNews, sponsored by Wolters Kluwer Law & Business. Click here to unsubscribe. To manage your newsletter preferences or subscribe, click here.
To unsubscribe via postal mail, please contact us at: Wolters Kluwer Law & Business, Attn: Business Compliance Marketing, 2700 Lake Cook Rd., Riverwoods, IL 60015. Please include the email address you have been contacted with.
©2013 CCH, Incorporated. All Rights Reserved.
About this Newsletter
From CCH's Government Contracts editors, here are summaries of the important recent developments in this practice area for the past week. Complete coverage of these issues, and more, appears in Government Contracts Reports 2208, the Government Contracts Reporter, and related CCH products.
Product Catalog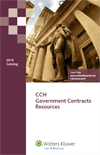 NEW! the CCH Government Contracts Resources 2013 Catalog (PDF, 1.38 MB)
Visit the Government Contracts Blog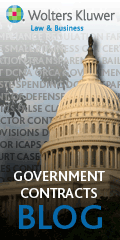 Join the discussion today and visit our insightful blog for government contracts professionals: gcblog.wolterskluwerlb.com.
About Links in this Newsletter
To access full text documents on CCH® IntelliConnect™ you must subscribe to Government Contracts Reports.
If you are not a subscriber,
call our sales staff at
800-449-9525 or visit www.onlinestore.cch.com.
Email Us
For general questions, contact NetNews@cch.com.
If you have comments or suggestions concerning the information provided or the format used, please feel free to contact the Government Contracts editors at CCHGC@CCH.com.